2023 Board of Directors
Friendship Home is pleased to announce the appointment of Denny Van Horn as board president, and the election of six new members to the Friendship Home Board of Directors.
New board members include Matt Ferris of Ferris Financial, Peggy Friesen, retired, Dr. Elizabeth Lau of Associated Anesthesiologists P.C., Greg Mendoza of Mendoza Family Insurance, Crystal Meyer of Ameritas, and Miranda Soulliere of Union Bank & Trust.
The Friendship Home Board of Directors is comprised of individuals from the business, academic, medical, and volunteer communities of Lincoln. The Board's responsibility is to provide guidance in the direction and operation of Friendship Home as well as raise awareness of Domestic Violence in Lincoln and the surrounding communities.
"I am pleased to welcome our new members and Denny as our new president," said Leah Droge, Executive Director of Friendship Home.  These individuals bring a wealth of experience and expertise in their fields and will be a tremendous addition to Friendship Home as we further our commitment to providing services to survivors of domestic violence in the Lincoln community. The gift of their time and talent is truly invaluable."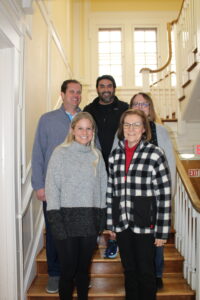 New Board Members
Back Row: Matt Ferris, Greg Mendoza, Crystal Meyer;
Front Row: Miranda Soulliere, Beth Lau;
Not Pictured: Peggy Friesen